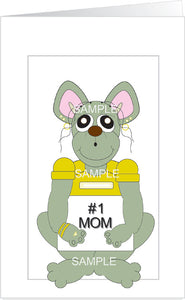 CARD DETAILS
Inside:
You give so much,
Expecting little in return
Always wanting the best for me
As you show compassion and concern.
I never fully understand
Why you do the things you do,
Constantly making sacrifices
As hopes and dreams I strive to pursue.
You always nurture and correct
To make me the best that I can be,
Mom, I won't let you down,
I'm going to make it,
I promise, you'll see!!!! 
Includes one card and one envelope.
Size is 8.5" L x 5.5" W.