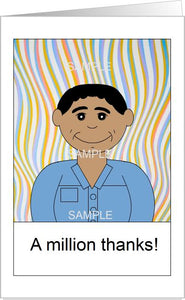 Inside:
You were the dad I never had
The disciplinarian when I was bad.
A steady presence
You've always been,
Someone I could turn to,
A mentor and friend.
You were always there
No matter the need,
Instilling confidence, providing structure
Helping me to succeed.
I can't even imagine,
Where my life would be
If you hadn't taken the time
To love and nurture me.

Happy Father's Day! Thank you so much
for all you've done!


Includes one card and one envelope.
Size is 8.5"L x 5.5"W.