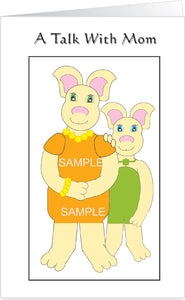 CARD DETAILS
Inside:
Mom, let's have a heart to heart,
With so many things on my mind,
Where do I start?
How I've waited for this day,
There is much to you I want to say.
Mom, I just can't thank you enough
For how you've been there for me
Especially when times were tough.
Thanks for patience, love, and sound advice,
For constantly giving your all
And never thinking twice.
You were responsible for the life you gave,
You taught me honor, respect, and how to behave.
It's funny, Mom, I never knew
How much you sacrificed 
To do the things you do.
Never think for a minute
That you are unappreciated
The fact that you're my mother
Makes me extremely elated.
Thanks so much for being you,
For shaping and molding
As through the years I grew.
Mom, for all you've done,
I can never repay,
So allow me to honor you
And esteem you highly this day! 
Includes one card and one envelope.
Size is 8.5" L x 5.5" W.