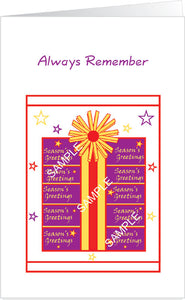 CARD DETAILS
Inside:
Remember the Gift
That was given to you,
He came to bring life,
So you can begin anew.
Remember the Gift
And how much He gave
He sacrificed His life
So that You could be saved.

Always remember the reason for the season.
Fifteen cards with fifteen envelopes.
Size is 8.5" L x 5.5" W.