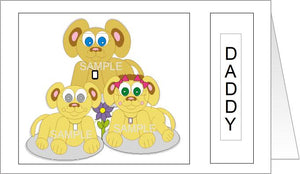 CARD DETAILS
Inside:
Dad, you raised us as best as you could,
Providing love and discipline
Like a real father should.
As head of household,
You stood your ground,
We felt safe and secure
With you around.
You accepted responsibility
And never shied away,
You were our strength, our backbone
Each and every day.
A devoted dad you've always been,
I'm so thankful to call you
Father and friend.
Dad, you're the greatest!
Happy Father's Day!
Includes one card and one envelope.
Size is 5.5" L x 8.5" W.