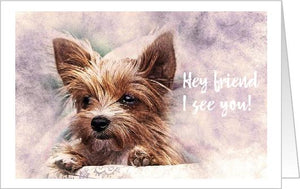 CARD DETAILS:
Inside:
I see your determination,
I see your pain,
You continue to press on
Yet you never complain.
 I see you focused and undeterred,
Always refusing to give in,
Remaining bold and uncompromised,
Time and time again.
 I see you and I know,
That there's something I must do,
So, I'm sending lots of love
And encouragement to you!
Hang in there and know that you are SO close to your breakthrough! I see you and I believe in you. Praying God's continued blessings and favor over your life.
Includes one card and one envelope.
Size is 5.5"L x 8.5"W