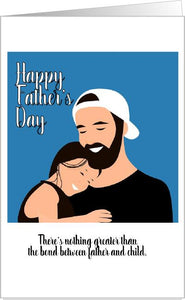 Inside:
It was love at first sight,
The day our eyes met,
A long-lasting relationship,
That I'll never forget.

It was love at first sight,
When you whispered in my ear,
Soothing all my cries,
And wiping away my tears.

You held me in your arms,
And lovingly spoke over me,
Words of affirmation
Of your hopes and dreams for me.

And even through the years,
As I've grown and matured,
Your endearing love,
Has constantly endured.

Daddy, I want to thank you,
For always loving me so,
You mean the world to me,
More than you'll ever know!
Happy Father's Day!
Includes one card and one envelope.
Size is 8.5"L x 5.5"W.