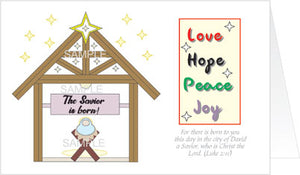 Inside Text:
Love, hope, peace, and joy
Is what the Savior came to deploy.
The gift of life,
He came to give,
Bestowing blessings upon us,
Enabling us to live.
With order and structure
He renewed our faith,
His majesty and sovereignty
We now celebrate.
In the spirit of love, hope, peace, and joy, we celebrate the birth of our Lord and Savior, Jesus Christ. From my family to yours, wishing You a Merry Christmas and a blessed, prosperous New Year.
Fifteen cards with fifteen envelopes.
Size is 5.5"L x 8.5"W.