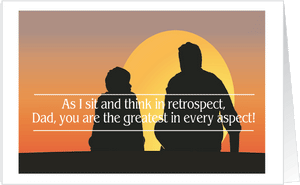 Inside: 
Man to man,
Father to son,
Dad, I commend you,
For everything you've done.
Dad, I thank you
For always being there,
No matter the situation
I always know that you care.

You guided and nurtured me
Every step of the way
Molding me into
The young man I am today.

Everything I am
And can ever hope to be,
Is because you have been
Such an awesome father to me!

Includes one card and one envelope.
Size is 5.5"L x 8.5"W.