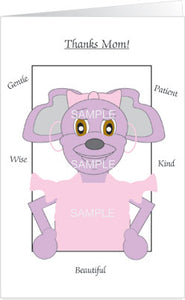 CARD DETAILS
Inside:
Thanks for never giving up on me
You've been there when I needed you constantly.
When others counted me out,
You counted me in
When others forsook me,
You were my one true friend.
When others gave up,
You wouldn't give in,
You kept nudging me forward
Time and time again.
I owe my all to you and this is true,
I never could have made it
This far without you. 
Thanks for all your love and support!
Includes one card and one envelope.
Size is 8.5" L x 5.5" W.