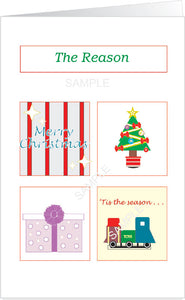 CARD DETAILS
Inside:
It's not the ornaments on the tree
Or the gifts from you to me.
It's not the tinsel or the bows,
Or the jolly mistletoe.
It's the promise of a Child,
God's precious Son, holy and mild,
It's the birth of Jesus Christ
Who made the ultimate sacrifice.

 Always remember the reason for the season.
Fifteen cards with fifteen envelopes.
Size is 8.5" L x 5.5" W.